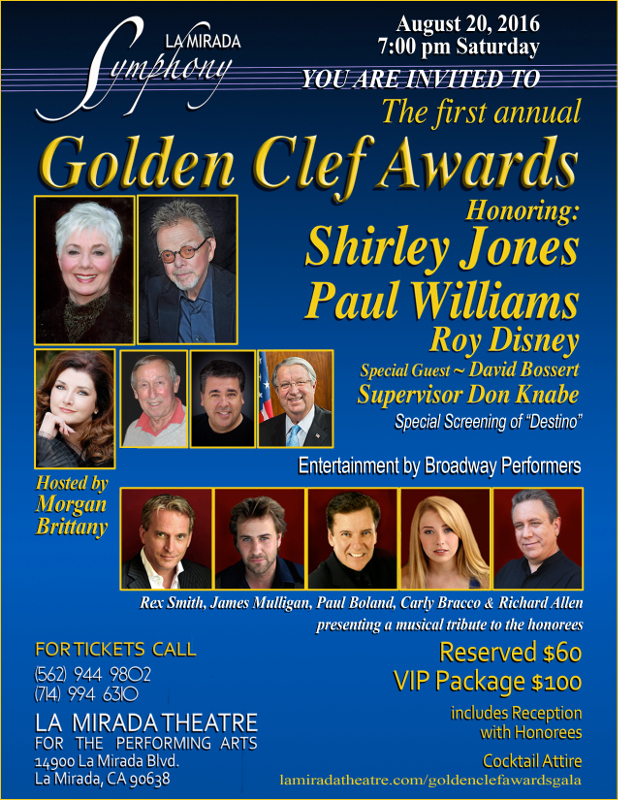 The La Mirada Symphony announces the first annual Golden Clef Awards Gala and Fundraiser to be held August 20, 2016 at 7 pm at the La Mirada Theatre for the Performing Arts. The Golden Clef Awards honor persons or organizations recognized for superior achievement or support of fine arts. We're very pleased to reveal the first recipients of the Golden Clefs.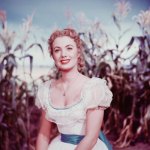 Shirley Jones ~ Academy award winning actress and favorite TV mom. Ms. Jones charmed audiences in the classic film musicals, Oklahoma, Carousel, and The Music Man. Playing against type as a vengeful prostitute in Elmer Gantry, she earned an Oscar. She rode a tour bus into America's heart as Shirley Partridge, the matriarch of television's Partridge Family. Ms. Jones will join the gala host, Morgan Brittany, onstage for an intimate interview before our audience.
Paul Williams ~ Singer, Songwriter, Actor, Author and Recovery Advocate Paul Williams is one of the most beloved and respected music creators in the world today. A lyricist and composer who has won an Oscar Award, three Grammy Awards, two Golden Globe Awards and earned induction into the Songwriters Hall of Fame, his songs, from "We've Only Just Begun," "Rainy Days and Mondays" and "You and Me Against the World" to "An Old Fashioned Love Song," "Let Me Be the One" and "The Rainbow Connection," have touched millions of people for generations.
Roy Disney ~ We are honoring Roy Disney for his contribution to Fantasia 2000 and preserving the Disney legacy. His widow, Leslie Disney, and his son, Roy P. Disney, will accept on his behalf. The evening will include a segment from Disney Studio Creative Director, David Bossert, about a "lost" section of Fantasia. The audience will see the complete segment, Destino, featuring art by Salvador Dali.
Supervisor Don Knabe ~ A long time supporter of the La Mirada Symphony and many other arts organizations, Supervisior Knabe retires after decades of public service. He leaves a positive legacy on the cultural development of Southern California.
**********
Entertainment will be provided by these exciting veteran Broadway performers:
Rex Smith ~ a multi-talented performer who never lacks for energy. His natural singing ability has led him to a successful career as a singer and actor. A platinum recording artist and a veteran of stage and screen, Rex's Broadway credits include  a starring role in the original production of "Grease," and notable performances in "Grand Hotel," "Sunset Boulevard," "The Scarlet Pimpernel," "Annie Get Your Gun," and "Kiss Me Kate." Rex received the Theater World Award for his memorable portrayal of Frederick in "The Pirates of Penzance."
James Mulligan ~ is an Irish American artist and actor best known for painting celebrity fine art and commercial murals. He began performing as a child, touring in the national company of "Oliver!" His stage credits include "Jekyll & Hyde," "Les Miserables," "Miss Saigon," and "South Pacific" with Reba McEntire.
Carly Bracco ~ performed on Broadway as Wendy opposite Cathy Rigby as "Peter Pan." She has many other regional theatre credits and recently performed at the La Mirada Theatre in "Carrie, the Musical." She is currently appearing in "Frozen" at Disneyland.
Paul Boland ~ is a singer and impressionist who was also once a game show announcer for the 1998 revival of Match Game. He also filled in for announcer Rod Roddy on The Price Is Right for a week in 2002 during Roddy's cancer operations. Paul has also guest starred on Renegade with Lorenzo Lamas, Into the Night with Rick Dees, The Entertainer with Wayne Newton, Mike and Maty and Home and Family.
An evening of top notch musical performances are certain to delight the audience. Proceeds from the gala will help fund the free concerts offered during the regular La Mirada Symphony season. A limited number of VIP tickets are available at $100 each, which include prime seating and an afterglow reception with the honorees. All other tickets are $60 each.
Reserved tickets are available through the La Mirada Theatre Box Office at 714-994-6310 and 562-944-9802 or purchase at online tickets.
Save
Save