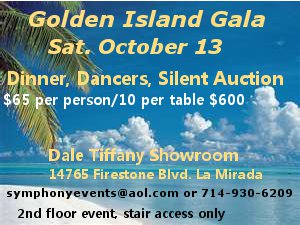 LET'S PARTY!
Get out that Hawaiian shirt and don't miss the fun! Sat. October 13 is coming up fast. The Gala Committee is working hard to create a night of laughter and enjoyment–delicious Wood Ranch Grill Food, Hawaiian Dancers,  games, prizes and a few surprises. If you've never been to the Dale Tiffany Showroom, prepare to feast your eyes on their gorgeous glass lamps–all available at a 20% discount to attendees. See all the details–Golden Island Gala. Mail in your checks or call for reservations today!
REHEARSALS BEGIN!
The musicians came together for their first rehearsal this week in the Activity Center in La Mirada. Dr. Bob Frelly has chosen Celebration of Nature for the theme of the first concert on October 27. I love that Water Music!
SUSAN EGAN–SoCal Girl turns Broadway/Disney Star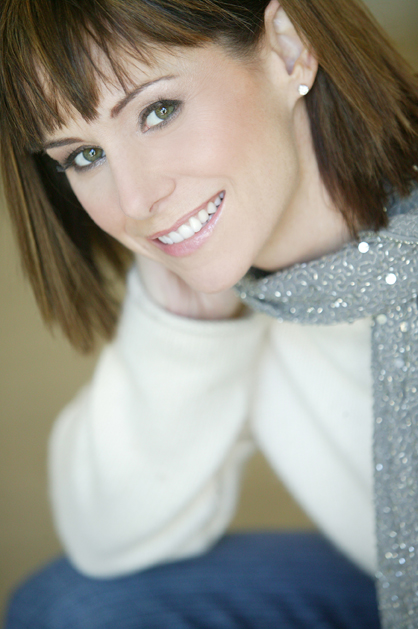 Board members Pat Ruiz, Joan Cain, Rose Hamilton & yours truly, Dana Taylor, traveled to Whittier last night to catch SUSAN EGAN in her one-women show. She was FANTASTIC! What a charming, witty, and talented songstress! She presented an autobiographical tour of her career, from OC student to Broadway star (Beauty and the Beast, Thoroughly Modern Millie,  Cabaret) to an adoring (and tired) Mother.
The La Mirada Symphony audience is in for a real treat on APRIL 6, 2013 when Susan will be our guest performer. This is going to be a fundraiser benefit to support the symphony. Tickets range from $20-$70 and already on sale through the La Mirada Theatre Box Office.
Dana Taylor, President La Mirada Symphony Association