From Dana Taylor–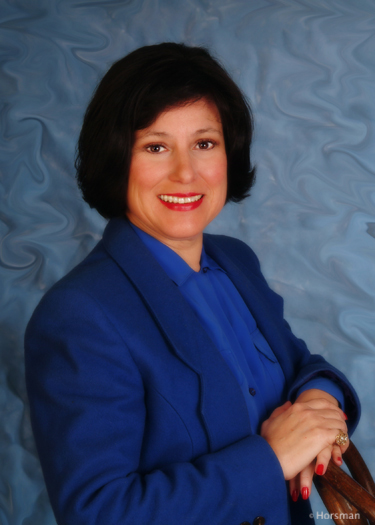 Becoming the new Symphony President has been an enlightening experience. The flurry of meetings, emails, and phone calls have put me in mind of the classic scene from "The Odd Couple" when Felix asks Oscar, "Do you think gravy JUST HAPPENS?"
The meetings (to name a few):
The Symphony Board hammers out details for the new season.
Artistic Director, Brian Kite, of the La Mirada Theatre  advises on Susan Egan Benefit.
Conductor Frelly confers with Orchestra Manager & committee.
Guild Members send out mailings.
Website manager from Advanced Network Consulting donates services and updates www.LaMiradaSymphony.com
Ways and Means Committee  plans fundraiser Golden Island Gala
New President requests continued funding from La Mirada City Council
Fundraising: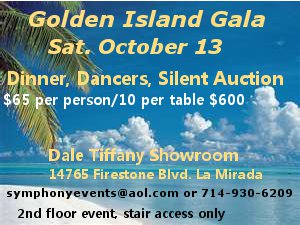 "Fifty years of Free Concerts"–that's what we're celebrating this year. Of course, they're not really free. This year's budget is approximately $100,000. Each concert costs about $15,000 to present. The La Mirada Symphony depends solely on grants and donations. Individuals writing their faithful checks are the backbone of the Symphony.
Plans for the Golden Island Gala have been going on all summer. What a fun evening it promises to be! Support beautiful music and attend this opening event. Councilman Steve Jones will be the Master of Ceremonies. Wood Ranch Grill is catering. Dale Tiffany at 14765 Firestone Blvd. is donating their 2nd floor for the event. Plus they are offering a 20% discount on all their merchandise.
The mailings:
When that missive arrives in your mail box with a flyer and return envelope, do you have any idea how much work went into getting it into your hands? One person designs the flyer, another sees to the printing, another produces labels and then a small army of ladies pick up bags of papers to be hand folded. Each label is peeled and sealed. The stuffed envelopes have to organized by zip code and an appointment is made at the post office to receive our bulk mailing. Whew! Treasure every letter you receive from the La Mirada Symphony as a labor of love.
Music selection:
Dr. Frelly gives his wish-list to Orchestra Manager, Joan Cain. Securing the parts for all the musicians is no easy task. You can't just go to Music R Us. The repositories of classical music are few. Sometimes the piece requested has been "lost in the mail"! Joan is one determined lady and goes above and beyond duty to pull together the repetoire the audience will enjoy.
Coming together:
This is just a sampling of all the people coming together with their time and talent to make sure the Golden Celebration Season of the La Mirada Symphony is a fabulous success. And we haven't even mentioned the musicians… But that's another blog.
So I ask you–do you think concerts "just happen"?
Dana Taylor is a Reiki Therapist and bestselling Amazon Author. Visit Books by Dana Taylor