The La Mirada Symphony Association is pleased to announce long-time orchestra member, Alan Mautner, will step up to the podium this season as the new Music Director and Conductor. Mr. Mautner has served as principle cellist for over five years and brings a wealth of experience and knowledge in his new leadership role.
About Alan Mautner: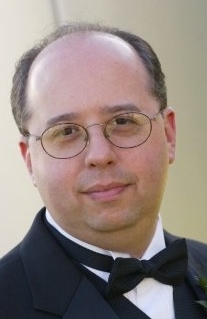 Alan Mautner is a native of Southern California, growing up in nearby Downey.  He  received his Bachelor of Music Degree in cello performance from California State University, Fullerton.  He has been very active as a freelance cellist performing with orchestras such as the Pacific Symphony, Riverside Symphony, Redlands Symphony, Desert Symphony, Mozart Classical Orchestra as well as the La Mirada Symphony serving as principal cello for the last 5 seasons.  He has performed with such noted artists as James Taylor, George Benson, Andrea Boccelli, Crystal Gayle, John Tesh, Glen Campbell, Dionne Warwick and Phil Collins.  He has also performed with artists of the jazz world such as Terry Gibbs, Teddy Edwards and McCoy Tyner.  He currently performs with his string trio, "Vio-fonik," which is dedicated to performance of contemporary and original works.
Mr. Mautner has been conducting ensembles since his high school days.  He began conducting the Symphony Orchestra at the Los Angeles County High School for the Arts in 1994, a position he still holds today.  During his tenure, the LACHSA Orchestra has received numerous superior ratings at local festivals.  The Orchestra has been selected to be a part of the Los Angeles Philharmonic Educational Partnership, allowing many master class and coaching opportunities for the students.  Mr. Mautner and the LACHSA Orchestra were invited to perform at the Walt Disney Concert Hall in the Spring of 2013.  In addition, Mr. Mautner also co-conducts the LACHSA String Ensemble and coaches string chamber music.
Many of Mr. Mautner's students have gone on to major music schools such as Julliard, Manhattan School of Music, Oberlin, Eastman and USC to name a few.  His position at LACHSA has also involved him conducting Operas such as "The Magic Flute", "Tales of Hoffman" and "Carmen."  He has also been involved as music director of many music theater works such as "West Side Story", "Evita",  "Into the Woods" and "Phantom of the Opera".  In February of 2014, Mr. Mautner collaborated with LA Opera conductor, James Conlon, for a production of Benjamin Britten's Opera "The Little Sweep" performed as part of the Britten Centennial celebration.
 In January of 2014, Mr. Mautner became the Partnership Manager for YOLA at LACHSA, an initiative partnered with the Los Angeles Philharmonic bringing music into the lives of 4th grade students in the East LA area.  In this first month of existence, 95 4th grade students are learning string instruments on the campus of LACHSA free of charge.  They were visited by Gustavo Dudamel, music director of the LA Phil for its grand opening in March
Mr. Mautner is also the conductor of the Wildwood Music Camp Senior High Festival Orchestra, a position that was passed to him from his father, Arthur Mautner, in 2007.  He has conducted the Pasadena Summer Young Chamber Orchestra in 1996.  He recently was a guest conductor for the La Mirada Symphony and was guest conductor for the 2011 Pasadena All-City Orchestra.  He also directed the Cal Poly Pomona String Ensemble from 2005-2009.
Welcome, Conductor Mautner! We look forward to a wonderful season of beautiful music in the year ahead.
La Mirada Symphony Association Board of Directors